The social network explained
Have you ever heard about United Schools? Are you interested in our initiative? In this article we explain everything about how it works on the social network! Who publishes? Who has access? How does the platform is managed? We answer all your questions !
What you need to know...
The United Schools association, which is recognised as being in the general interest, develops and runs a eco-citizen platform between schools around the world. This tool is a social network accessible to the 5 to 16 year olds via their teachers with topics such asinterculturality andeco-citizenship.
The teacher is the person who has access to the platform and is responsible for the published content. United Schools does not impose a frequency of use or user paths, so users are free to use the platform on a daily or weekly basis and to contact other schools, for example, as long as they comply with our terms.
The platform can be configured in english,in french and, recently, in spanish. The publications are therefore made in these 3 languages.
If the teacher is the one in charge of the account, he is of course not the only one to benefit from it!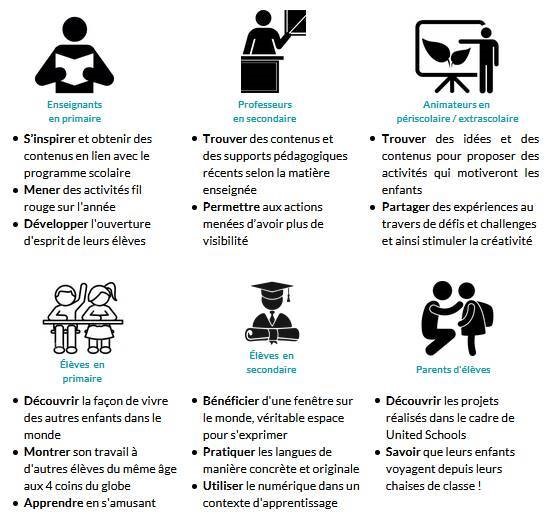 How to use the platform?
Teachers may decide to:
Upload content prepared with the pupils (photos, videos, music, articles...).
Access the content made by other classes from all over the world (thematic groups, filters, search engine...)
Search for and use some activities and challenges created by United Schools
Interact with the other classes by reacting to their productions (comments, likes...). They can exchange, with their pupils, in a more privileged way with another class in complete autonomy.
A simple smartphone with an internet connection is enough to benefit from the United Schools experience. This is why all 5 continents are present, including less privileged schools.
When to use the platform?
Users have 2 options:
During the class, using the platform as a pedagogical toolfor example, by presenting content from other classes with their pupils and offering feedback
During or after school hours, by relaying on the platform an activity carried out with students
How does the United Schools team support users?
1 - We welcome teachers and guide them in their first steps on the platform
2 - We animate the user community via newsletters, tutorials, activities...
3 - We moderate exchanges to ensure a secure platform that respects our terms.
Some examples of publications
In Laos, they share traditional recipes: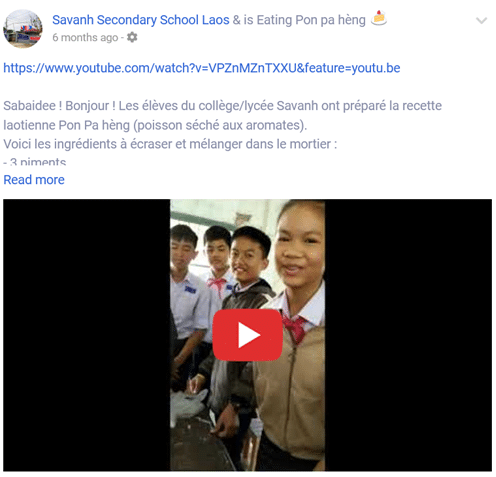 In France, they recycle old school textbooks in order to 
raising funds to help a South African school: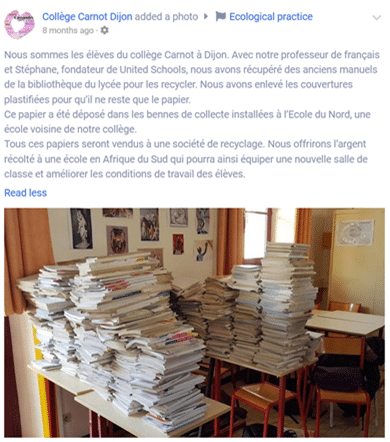 In Cambodia, they are making a video to show how they 
are fighting plastics-related pollution in their countries: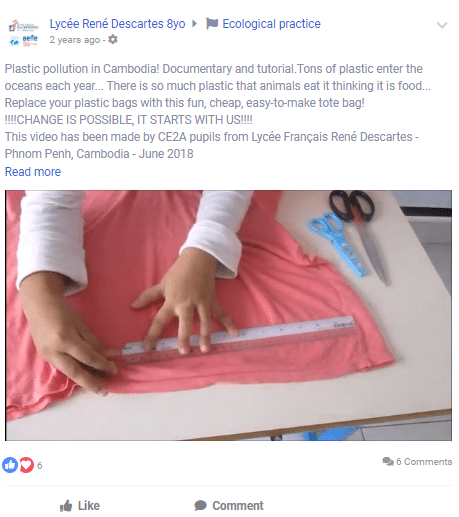 In Bolivia, they are taking part in the World Clean-Up Day: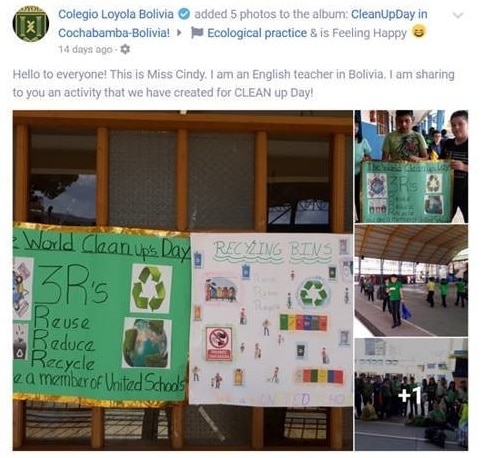 Would you like to find out more or create your teacher account?